About the College
On this page:
Message from the Dean
Aloha,
It gives me great pleasure to serve as the Interim Dean at the University of Hawaiʻi at Hilo Daniel K. Inouye College of Pharmacy (DKICP). The College has a strong and impressive history of professional accomplishments. It has been recognized for contributions in the areas of clinical education, faculty and student research, community engagement, experiential education, student engagement, alumni engagement, and clinical education partnerships. Despite the pandemic and uncertain times throughout academic years 2020-21 and 2021-22, we have persevered. Faculty, staff, students, and alumni have demonstrated a strength of purpose, resilience, creativity, and initiative that has enabled the College to have very impactful years. I congratulate the college community on its important work of discovery, teaching, learning, and service that helps shape the future of tomorrow's health care. I am proud and honored to be a part of this thriving academic community and look forward to all the College will accomplish during this academic year and beyond.
Our college's faculty, staff and students fully embrace the University's mission that "our kuleana (responsibility) is to improve the quality of life of the people of Hawaiʻi, the Pacific region and the world." Pharmacists are consistently regarded as the most respected of health care professionals. The profession has been transforming our scope of practice to become primary care providers across numerous settings as valuable members of interprofessional health care delivery teams within a rapidly changing environment. Legislative progress continues on both state and national levels to recognize our expertise for reimbursable provider services.
We have enormous pride in our growing body of alumni who are worldwide practitioners, researchers and leaders. Our faculty and staff dedicate themselves to provide the high-quality education, professional training, and inspiration necessary to become competent and compassionate providers. We encourage our student pharmacists to set their goals high and achieve them.
I always look forward to conversations about what we do well and how we can strengthen our academic program and partnerships. Thank you for the opportunity to serve as your Interim Dean.
Me ka mahalo nui,
Miriam Mobley Smith, PharmD, FASHP
Interim Dean
The Mission
The mission of the DKICP is the traditional mission of academic healthcare - education, research, and service with emphasis on patient care. More specifically, our mission is:
To educate pharmacy practitioners and leaders.
To serve as a catalyst for innovations and discoveries in pharmaceutical science and practice for the promotion of health and wellbeing.
To provide community service, including quality patient care.

The Vision
The Vision of the Daniel K. Inouye College of Pharmacy (DKICP) at the University of Hawaiʻi at Hilo is to drive Improvement of Healthcare in Hawaiʻi and throughout the Pacific.
We will achieve this vision by focusing on Hawaii's unique cultural, physical, and geographic features, by employing world-class faculty, and by graduating exceptional professionals.
As we chart our course, we are committed to:
Preserving the strengths of our foundation
Demonstrating a positive impact
Ensuring financial viability that enables us to support UH Hilo's mission
Living the values of the University of Hawaii System
Engaging and giving back to our community
Embracing unique opportunities
A Historical Perspective: How the Daniel K. Inouye College of Pharmacy Began
"The conception of the College of Pharmacy came from the Island, with a higher religious power helping along the way." — Pat De Leon, Former Chief of Staff to Senator Daniel K. Inouye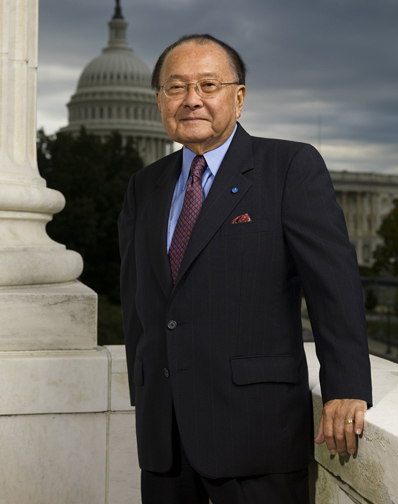 Senator Daniel K. Inouye (September 7, 1924 – December 17, 2012) By all reports, the credit for spurring the University of Hawaiʻi to start a College of Pharmacy on Hawaiʻi Island goes to Senator Daniel K. Inouye, the senior U.S. senator from Hawaiʻi, and his inimitable chief of staff, Patrick "Pat" De Leon. In 2000, Sen. Inouye was 76 years old and had been the U.S. senator for Hawaiʻi since 1963.
At a time when many people leave new ideas to the younger generation, Inouye was still working to bring the islands of his state together. Every island in Hawaiʻi has its own potential and unique characteristics to ad a specialty to the university system. Each neighbor island will harbor centers of excellence; this was Senator Inouye's vision. He believed every island should have its own specialty. For Hawaiʻi Island, it was to be the only College of Pharmacy in the Pacific region.
A timeline of major milestones in the beginning includes:
2001 - Senator Inouye secures funding support to develop a comprehensive long-term strategy for establishment of a clinical pharmacy program at the University of Hawaiʻi at Hilo
October 2004 – BOR approves the reorganization to establish College of Pharmacy at UH Hilo and positions and hiring of a Dean
October 2005 – Chancellor Tseng requests BOR for approval of the creation of a College of Pharmacy at the University of Hawaiʻi at Hilo and authorize recruitment of a Dean for the College.
June 2006 – John M. Pezzuto appointed as Founding Dean.
2006 – Hawaiʻi State Legislature approved funding for initial core team, and Board of Regents approves organizational structure, degree program and curriculum.
February 2006 – UH Hilo's College of Pharmacy received affiliate institutional membership in the American Association of Colleges of Pharmacy (AACP), the the national organization representing pharmacy education in the United States.
2006 - WASC Substantive Change Committee reviews proposal from UH Hilo to offer Pharm.D. professional pharmacy program.
May 2007 – The Accreditation Council for Pharmacy Education (ACPE) conducts first site visit to UH Hilo
June 2007 – ACPE approved Pharm.D. program at UH Hilo for pre-candidate accreditation status. With this designation, UH Hilo becomes the first school recognized by ACPE to offer the Doctor of Pharmacy degree in the State of Hawaiʻi.
August 2007 – The Inaugural class of 2011 began classes at UH Hilo.
June 2007 – University's College of Pharmacy has achieved the first step in the Pharmacy School Accreditation Process. The Accreditation Council for Pharmacy Education (ACPE) has granted the College of Pharmacy Pre-Candidate Status.
Accreditation and Program Disclosure
The Daniel K. Inouye College of Pharmacy at the University of Hawaiʻi at Hilo, Doctor of Pharmacy program, is fully accredited through June 2025 by the Accreditation Council for Pharmacy Education (ACPE).
Accreditation Council for Pharmacy Education
190 S. LaSalle Street, Suite 3000
Chicago, IL 60603-3446
Phone: (312) 664-3575
Fax: (866) 228-2631
Email: csinfo@acpe-accredit.org
Website: acpe-accredit.org
The on-time graduation rate for the most recent graduating class in the single degree pathway, i.e., the percentage of a class cohort completing the curriculum in 4 academic years. 84% for the Class of 2022.
The most recent year's NAPLEX® results for first-time takers as found on the NABP website: 63% for the Class of 2022.
Measures of student achievement for the most recent graduating class
Class of 2023 - The number of graduates in the class cohort entering residencies, fellowships, or graduate school: 8 (11%) entered residencies.

Class of 2023 - The number of graduates who also received a certificate:

Rural Health Certificate: 5 students
Healthcare Leadership Certificate: 5 students
Health Science Research Certificate: 4 students

Class of 2022 - The percentage of graduates in a class cohort employed in the profession of pharmacy during the first year after graduation (including residencies and fellowships): 71% (9% other; 20% no information)
Number of Graduates by Year
| Class Year | Number of Graduates |
| --- | --- |
| 2011 | 84 |
| 2012 | 88 |
| 2013 | 85 |
| 2014 | 84 |
| 2015 | 91 |
| 2016 | 85 |
| 2017 | 79 |
| 2018 | 74 |
| 2019 | 74 |
| 2020 | 73 |
| 2021 | 79 |
| 2022 | 75 |
| 2023 | 41 |
Contact Us
Contact Inforamtion
The Daniel K. Inouye College of Pharmacy
University of Hawaii at Hilo
200 W. Kawili St.
Hilo, HI 96720-4091
Phone: +1 (808) 932-8120
Fax: +1 (808) 932-8117
Email: pharmacy@hawaii.edu